Fundamental
---
Our goal : organizing the exchange of information on thermal spraying at the European level.
ETSA is managed by the Board of Delegates, composed of twelve members elected in a secret vote by the College of Members during the assembly general for four years. They can be re-elected. Members by right: the national representatives of the European countries (one representative per country being active in thermal spraying) are proposed by the national members of the association and accepted by the elected members of the Board of Delegates for four years.
Board of Delegates represents key European universities, research centers and companies involved in thermal spraying, performing research and producing feedstock, equipments and coatings on European and international level. The institutions represented by the delegates gather together hundreds of scientists and engineers dedicated to R&D activities dedicated to base research, applied research, equipment and application development , problem solving in the field of thermal spraying, materials science and engineering...
Thermal Spraying Down Under
---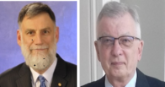 Swinburne University of Technology in Melbourne (Victoria, Australia) starts to be very active on the field of surface engineering and, in particular, in thermal spraying. Behind this activity is a respected scientist and dynamic manager, Professor Christopher Berndt. I could meet Chris during my internship in Monash University in Melbourne on the end of eighties of last century and since then we stay in contact and collaborate wherever possible.
On the end of August 2019, the Swinburne University launched a research and development center: SEAM (Surface Engineering for Advanced Materials). SEAM is composed of a huge network of international companies like Oerlikon from Switzerland, associations as GTV from Germany and universities including Nanayang Technological University from Singapore­. The research themes are related to thin film (PVD and CVD), thermal spraying and laser coatings and additive manufacturing. More details can be found in the SEAM's website: https://arcseam.com.au/.
Another event to be organized in Swinburne comes on 10 and 11 February 2020. It will be a conference MISE 2020 (Materials Innovation in Surface Engineering). Among the plenary speakers there will be Dr Laura-Filoftea Toma from Dresden well known in the field of suspension plasma spraying and Professor Margaret Hyland from Wellington in New Zealand who did a lot of studies on splats in sprayed coatings. More detailed description of the meeting can be found in the website https://www.mise2020.com.au/.
Christopher C. Berndt and Lech Pawłowski
Limoges, 24 September 2019
Why
become member ?
---
The website of the European Thermal Spray Association provides the useful information to all colleagues interested in thermal spraying in the large societies, job shops, or university laboratories. The ETSA members have access to the additional services such as job proposition, information about services related to thermal spraying in different European countries, forum of users which enbles research of missing information related to thermal spraying and much more.
The ETSA membership enables also a reduction in the fees of the events organized by the association.
We invite you to join ETSA!
Sign up